Meals are prepared according to the local tradition of simple and genuine dishes. The Cooperative provides fresh produce, olive oil and herbal liqueurs from their own garden, bravely grown on the typical terraced slopes of Liguria.
Other small local partner companies provide wine, craft beer, olives and organic meat. Bread is home baked daily.
FARMS ASSOCIATED:
Azienda agricola Gandolfo Gianpaolo
olio extravergine, olive in salamoia, Candeasco (IM)
Azienda agricola Monte di Capenardo
Capenardo (GE): carne bio da allevamento brado www.capenardo.it
Azienda agricola La casetta
Salino-Varese Ligure (SP) vino bianco e rosso www.lacasetta.tk
LE AZIENDE AGRICOLE DEL TERRITORIO DA CUI CI RIFORNIAMO:
Azienda agricola Liggia du Marè
formaggio pecorino, Sestri Levante (GE)
Azienda Agricola DolceFiorita
formaggio di capra e vacca Cabanina Rapallo (GE) www.dolcefiorita.it
Caseificio Val D'Aveto
quagliata formaggio stagionato yogurt, Rezzoaglio (Ge) www.caseificiovaldaveto.com
Eva-Bio
succo di mela bio della Val Venosta,Castello di Laces (BZ) www.eva-bio.com
Maltus Faber
Birra artigianale, Genova (GE) www.maltusfaber.com
We offer:
a full meal at 30€ inclusive of mixed starters plate,
first course, second course and dessert;
a lighter meal at 22€ inclusive of mixed starters plate and one other course of your choice.
Water and bread are always included.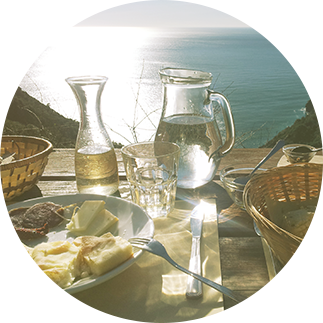 A unique setting, wild and exciting. Oil honey and herbal liqueurs Hospitality in an old mill the farm for walkers.
Andrea Leverone – administrator